The Challenge
There are 200 million people aged 15 to 24 in Africa. Based on current trends, this number may well double by 2045. Young people also currently make up 60% of all African unemployed. 82% of African workers are considered  "working poor"- people in vulnerable employment or struggling to survive. Writing from experience, what most young people in Africa simply want is a proper job and the dignity this provides.
In Senegal, often regarded as one of the more successful countries in Africa, 66% of young people aged 15-24 (1.7 million people) do not complete primary school and have to enter the job market without any qualifications. For the lucky ones who do access vocational training, places are limited, options often gender-stereotyped and the training rarely provides a quality curriculum that addresses the needs of the labour market. The mismatch between skills of young workers and those needed by employers appears to be chronic.
Faced with a lack of prospects, surviving in informal and poorly paid jobs, many young people risk their lives fleeing to Europe in search of a better life. If between January and March 2015, 1200 Senegalese reached the Italian coast, the same year 1218 migrants from Sub-Saharan Africa tragically perished on the way.  Meanwhile, experience of election violence, not just in Senegal, has shown that the lack of employment opportunities can seriously undermine social cohesion and fuel political violence. A jobless young generation living in poverty does not just jeopardize a country's future, but also represents an easy target for extremists.
Second chances are urgently needed for these young people just waiting for an opportunity.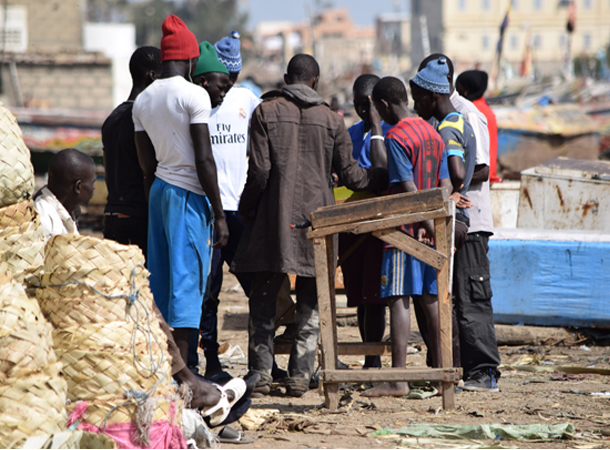 Testimonies
My name is Awa, I am an 18 year-old girl and belong to a poor polygamous family.
My dad passed away a long time ago. He did not want his children to attend the French schools, which impacted on us greatly. I don't have a regular job. I used to help my sister with petty trading in order to help our mother who is ill. But as the selling wasn't going well and it was risky, I decided to stay at home.  I live in a poor district and in order not to end up in the wrong hands, I asked for advice from one of my former instructors, who directed me to Association Jeunesse Espoir (AJE) to participate in their activities.  In the past I attended another drop-in centre and different workshops, but never got a proper training. We also couldn't afford to enrol me in any centre providing vocational training worthy of its name.
I know that a training course would allow me to have a real profession and a job in order to provide for my needs and help my family. 
My name is Babacar. I am the youngest in the prison of Saint-Louis.
Since I was young, my life has been filled with trouble. I was born out of wedlock, my dad was a drunkard and my mum a maid, who got by, trying to feed her 5 children. Today I am 19 years old, and have spent a lot of time behind bars. I did not attend the French or the Koranic school. I never learned a trade. I hung out with other children on the streets, in markets, at the stations, the docks … to meet my basic needs. I was first convicted 5 years ago, when I was still a minor and I had stolen a mobile phone.  I was convicted 3 times and this time I have 45 days left in prison. After all these twists and turns, I have decided I do want a new life, and want to learn a trade so I can get a job to provide for my needs, leave the streets, help my family and convince my old friends to follow the same path.
At the moment I don't have activities here in prison, but as soon as I get out I will go to Association Jeunesse Espoir (AJE), attend the free classes they offer and hopefully also be selected for a scholarship to pursue my dreams.